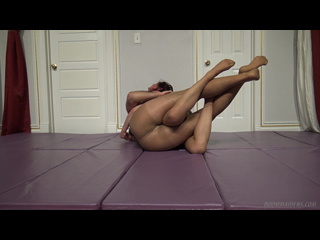 A flirty and intimate wrestling play date with VeVe and Diablo, both decked out in their smooth tan pantyhose and hitting the mats together for a "catball" style tussle!


Smiling and sweetly teasing, VeVe and Diablo lock up in the clinch before falling into their legs-entangled catball. They press together, chest to chest, with their nylon-clad legs rubbing and intertwined as they roll and struggle on the mats. They wrap their arms around each other's bodies and squeeze, or fingerlock, or even mischievously pull hair and smother.


The tone is light-hearted and playful, with both wrestlers enjoying the struggle and enjoying each other's company.


The tussle starts out gently, but the action and vigor gradually increase throughout. The two tease each other as they go, sometimes sometimes murmuring softly, sometimes laughing aloud as their breath quickens with the excitement of the escalating struggle. Rolling alternates between fast and slow, with pauses for pin-in-place exchanges.


At last, VeVe pulls free of Diablo's legs and climbs her way up to a School Girl Pin. He thrashes, bridges, and twists, but VeVe has him totally trapped and he must admit defeat. Satisfied, VeVe poses on him, headlocks him, and victoriously flexes her biceps. Appreciative Diablo gives her biceps a kiss and admits that VeVe is indeed the stronger this evening...