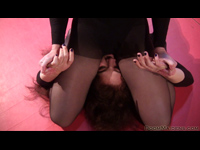 Syndicate Agent VeVe unexpectedly runs into rookie Agent Candy while on a covert mission. VeVe has claimed this mission for herself, and she doesn't appreciate Candy butting in on her territory.


The two agents decide to settle their dispute in the traditional Syndicate manner: by combat! They engage and hit the ground in a tangle of nylon-clad legs.


The ladies attack each other with head scissors, body scissors, triangles, leg-bending holds, grapevines, pins, a facesit and a lotus lock. As they battle, the ladies wrap their legs around each other as much as they can, fighting like true Syndicate members should.


As the fight wears on, VeVe gains the advantage and incapacitates Candy with a chokehold. VeVe then hogties her defeated opponent. Once Candy realizes what's happening, the tie is already secure. Ignoring Candy's distress, VeVe finishes her off with a duct tape gag, She then poses over the poor, bound rookie before leaving her alone and embarrassed.