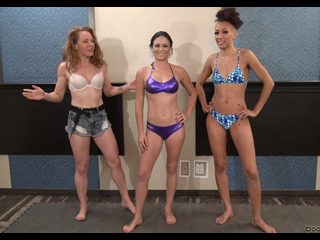 A hard-fought competitive match of contrasting body types -- tall, leggy Aqua X comes in with confidence to take on petite and powerful spitfire Sarah Brooke in this intriguing submission wrestling bout!


Neither Aqua nor Sarah are formally trained grapplers; rather, both ladies rely on their terrific natural instincts and on-the-mats experience. Aqua is still relatively new to the wrestling scene: she's a dancer and performance artist with only a handful of prior competitive F/F wrestling matches. However, she is physically savvy and a shockingly quick learner. Sarah Brooke is feisty, fit, and strong with a background in catfighting. She's experienced in competitive wrestling and is a tenacious opponent. These ladies had never heard of each other before, so they had no idea what to expect from the match -- aside from whatever they could guess by looking their opponent up and down!


The ladies clash for an active, hard-fought, and suspenseful wrestling contest. They use their instincts to try to figure each other out, and come in with their best strategic attacks. Squeezing pressure, body entanglement, creative positions, multiple submissions, and natural talent on display from both sides. Submission wrestling. Two 10-minute round, 5-minute Punishment Round for the loser (Punishment Round includes: facesitting, breast smother, headscissors, victory posing).