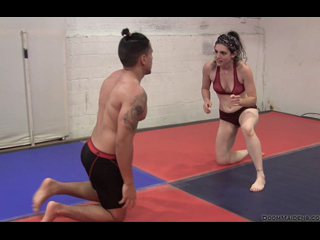 Petite, scrappy Aralia is tough as nails and has been wrestling with us for about a year. She loves to fight and is a fearless competitor. Frankie is muscular and strong from lifting weights at the gym, but he only wrestles occasionally and has no formal wrestling training. They face off on a hot summer evening for a fully competitive submission wrestling match of two 10-minute rounds.


It's a match full of energetic exchanges interspersed with moments of sizing each other up. Almost like dueling. Aralia's aggressive approach makes Frankie wary, but she pursues him relentlessly. Even when Frankie gets on top, he has a hard time holding Aralia down as she uses her legs to keep him away and squiggle her way free. But when Aralia gets on top, Frankie finds harder than expected escape from her.


With an even score after 20-minutes of wrestling, the match goes into special "Submission Challenge" Overtime (5 minutes). They alternate starting in the "back grab" position and take turns trying to escape or submit each other. Winner gets the victory pose.


** Spoiler ** Highlight below for Winner:

Aralia wins, scoring a submission victory in overtime.
.