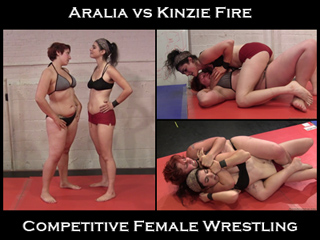 Our final match of the day for our October 2016 Live Filming Event was the hard-fought and well-matched bout between Aralia and Kinzie Fire. These two newcomers had been watching each other's previous fights and watching each other train, but they haven't had a chance to really test each other until now!


Each of these fights has an advantage of her own: Kinzie comes in with a 40-lb weight advantage, while Aralia has several more months of training experience under her belt (Aralia's been training about 1 year, Kinzie about 6 months). Both are promising up-and-comers who have been practicing alongside VeVe; both love a good challenge; and both are eager to put their new skills into action.


The result is an active and suspenseful match with a very close final score. The competitors do a great job of hunting for submissions, reversing each other, and escaping from danger. Athletic and sporting tone. Most submissions wins. And to the winner goes the victory pose!