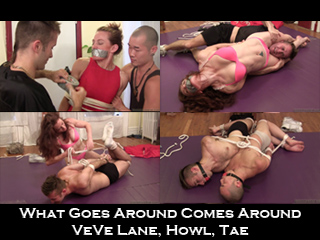 Gangsters Howl and Tae have captured rival gang member VeVe while she was spying on them at their boss's fancy gala. With VeVe still in her party dress, the men bring her to their hideout, where they duct tape gag her, force her to strip into her bra and panties, harass her, tie her to a chair, and handcuff her for good measure.


Once their captive is fully secured, Tae steps out and leaves Howl in charge. Ever resourceful, VeVe tricks Howl into untying her ropes. But with her gag and handcuffs still in place, she attacks Howl and wrestles him down using only her legs! She frees herself from her cuffs and gag, commands Howl to strip to his underwear, handcuffs him, binds him into a hogtie, and finishes him off with a ball gag. Now, Mr. Gangster, how do you like it?!


When Tae returns he's shocked to find Howl bound and gagged... and even more shocked when VeVe ambushes him from behind! She wrestles him down and locks him into a choke hold, commanding him too to strip to his underwear. She then binds him into a hogtie and stuffs his mouth with a ball gag, all in sight of his hogtied, ball-gagged buddy.


As the men squirm uselessly in their bonds, VeVe drags them into position and binds them together, front-to-front, to further their humiliation. Fully amused by this turn of events, VeVe disguises herself in Tae's clothing and teases her embarrassingly helpless former-captors as she saunters haughtily out the door. What goes around comes around, gentlemen!