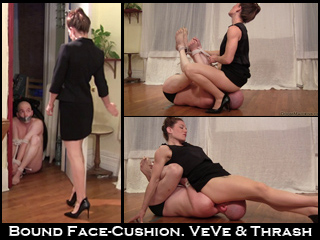 There's a secret apartment in the heart of the city where a certain female executive keeps a certain special plaything. She keeps him locked away in the closet, gagged and bound into a tight and tidy little ball, ready for her whenever she pleases. And today, executive VeVe has decided to pay a visit to her special little toy...


She arrives at the apartment and drags him out of the closet, rolling him casually to the center of the room. He's helplessly bound and tape gagged, and as she stands over him and hikes up her skirt, he waits gratefully to serve. VeVe lowers herself gracefully and enjoys a lengthy facesitting session with her face-cushion slave.


With her skirt hiked high and him still tape gagged, she warms him up with a brief set of facesits before removing his gag and her jacket. She continues with deep, prolonged forward and reverse facesits, smothering him for her amusement. She crushes, covers, and rides his face, playfully bringing him to the point of panic before letting him gasp in relief.


She coaxes her bound face-cushion on occasion, encouraging him and laughing gently. She also moves him on occasion, changing the angle of her facesitting positions. About half-way through, she removes her shoes, giving him a chance to kiss her nylon-ed feet, before she returns to facesit him again. Once she's had her fill of fun with him, she duct tape gags him once more and gently drags him back into the closet, where he must wait for her until the next time she's in the mood to visit him again.