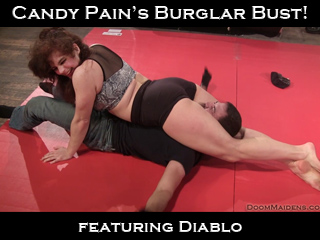 Candy Pain comes down to her basement, looking for some old video tapes, and she discovers... a burglar! (Diablo!)


Furious and seeing that the burglar is unarmed, Candy attacks him immediately! Not only is she a confident wrestler, but she's also physically stronger than the little thief. She quickly subdues the burglar using her powerful legs, trapping him with a variety of scissorholds and grapevines, and holding him tightly as she calls the police on her cell phone.


But, of course, the police are not always quick to arrive... And so, using the only "bondage equipment" immediately available, Candy continues to hold the thief prisoner with her strong legs. However, she's not content to just stay still, oh no, especially while the burglar keeps struggling to try and get away. Candy stays one step ahead, keeping control of him by transitioning between head scissors, body scissors, grapevines, and school girl pins. And Candy Pain certainly lives up to her name: those scissors are hard and tight!


The burglar helplessly tries to bargain with Candy for his release, but she'll have none of that! When the police finally knock at the door, Candy forces the woosey burglar to his feet and escorts him out. Don't mess with Candy Pain!