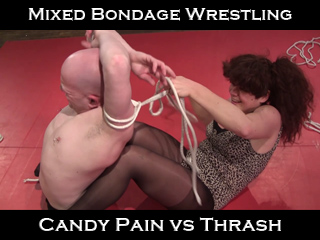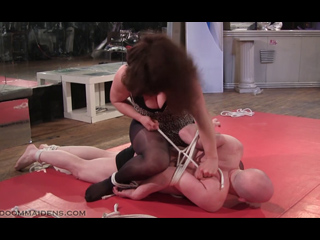 This is Candy Pain's very first competitive mixed bondage wrestling match! Last year, in her first female bondage wrestling experience, Candy was cleanly tied up by VeVe, much to Candy's amazement. And so, Candy started training with VeVe to "learn the ropes."


In this match, Candy faces off against Thrash, who has also been studying bondage wrestling skills with VeVe. With this bout, VeVe puts her students to the test. And she will grade them accordingly...


Thrash comes ready to fight and work the ropes as best he can. But Candy presents an incredible challenge: she has a size advantage, a strength advantage, and a better handle on the knot-work. Thrash tries his best, but suffers through painfully debilitating rope burn and crushing pins as Candy overpowers him with her legs, strength, and faster rope skill. He attempts brave escapes, but Candy wrestles him down and eventually works him into a tight modified hogtie.


With her opponent helplessly immobilized, Candy amuses herself by decorating him with a chest rope, a rope "crown," and a duct tape gag that wraps all the way around his head. Candy's tie is neat and lovely, and she is super pleased with herself. Gagged Thrash suffers silently in a tight little package as Candy celebrates, victory poses, and shows off her work!