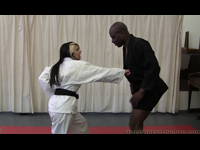 In this fantasy Karate domination video, Indra makes Adrian pay the price for his disrespect and arrogance.


Adrian enters the training studio looking for a karate instructor. Indra introduces herself as the instructor, but Adrian doubts that this little woman can show him anything. Ever confident, Indra invites him to play. Adrian tries several attacks, but Indra defeats him every time, using fast paced blocks, kicks, punches, and chops. She even removes her belt and uses it as a weapon to defeat his attacks.


Finally, Indra removes her gi jacket and kicks Adrian to the ground, where he remains exhausted and defeated. But she's not done with him yet; it's time for Adrian's next lesson. Indra taunts him, stands on his belly, presses her feet into his face, and smacks and chokes him with her feet. Finally, she forces him to apologize as she sits on his chest and forces her feet onto his throat.


When at last she is satisfied, she puts him out following the prolonged choke and concludes with a victory pose.