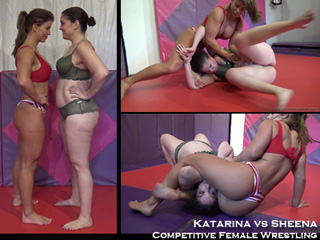 Newbie wrestler Katarina steps up for a big challenge -- by popular request! -- as she faces off against the incredibly fit and powerful international judo champion Sheena!


Katarina has been wrestling for only 7 months so far, but although she's still new to the mats, she loves a good tussle and has jumped right in with genuine glee. Meanwhile, Sheena as over 20 years of experience in judo and wrestling arts, and she has an impressive athleticism from her lifetime in the martial arts. The Twitter fans voted for Katarina to face Sheena in a competitive submission wrestling match, and Katarina merrily accepted their nomination. What will this wrestle-adventure have in store for our brave newcomer? She was certainly curious and eager to test herself and find out!


Two 10-minute rounds of submission wrestling. A 5-minute Punishment Round for the loser. Katarina is fearless, determined, and mentally tough. The lioness Sheena is cool, confident, graceful, poised, and very physically dominant. It's an impossibly uphill fight for Katarina, who, despite the ridiculous odds, stays focused, gives her all, and always comes back for more! ... much to lioness Sheena's amusement.


Punishment Round includes: headscissors, breast smother, feet on face, cross body pin, arm lock, and more, and Victory pose. Submissions during the match include: triangles, headscissors, breast smother, arm locks, and more. Includes opening and closing comments.