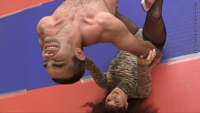 Candy Pain welcomes newcomer Justin onto the mats by putting him through the wringer! If Justin wants to wrestle with our tough ladies, he's got to make it through Candy's punishing pro-style holds first. Time to find out just how flexible Justin's spine can be...


Candy, in her black tights and tiger stripe thong leotard, works Justin over with a variety of her favorite, back-bending holds. Holds include (and often repeated):


Torture rack, Boston Crabs and single Crabs, Camel Clutches, bow and arrow hold, lotus lock, surf board, body scissors, head scissors, matchbook pin, Ceiling Hold (twice!), grapevine, and Venus Flytrap. She also softens him up with body slams and an Atomic Drop.


Candy's holds are tight and prolonged, and she bends Justin to his limits. Justin takes the punishment like a trooper, grimacing in pain as Candy works him over. She talks to him the whole time, describing her holds. She finishes up with a victory pose over the thoroughly dominated newcomer. A great display of confident physical control by Candy Pain!