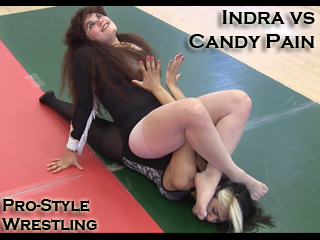 VeVe pits two of her former jobbers against each other in this fantasy pro-style match. Without veteran wrestler VeVe beating them up, these two rookies turn on each other! Let's see how they do...


Candy and Indra size each other up in the first round, trading holds back and forth. But when Indra pulls Candy's hair, Candy accuses her of fighting dirty and ramps up the intensity. Candy begins to dominate in round 2, exhausting Indra with hold after hold.


In round 3, Indra is totally exhausted, and Candy dominates her completely. Candy emerges victorious as the self-proclaimed champion of Fair Play. She strikes a victory pose and shows her true colors as a "face" character.


Holds included: Matchbook pins, Venus Fly Trap, Camel Clutches, Scissor holds, Boston Crabs, chokehold, grapevines, Ab Claw, school girl pins, Bow and Arrow, Airplane Spin, Lotus Lock, Back Beaker, Ceiling Hold.