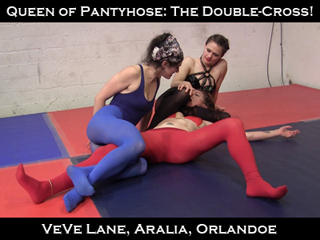 Action, treachery, crotch shots in svelt tights, and 2-on-1 pantyhose wrestling punishment! VeVe, the Queen of Pantyhose and reigning champion of the Pantyhose Professional Wrestling League, finds herself in a world of hurt when she falls victim to a nefarious plot by her arch rival Orlandoe, "The Nemesis."


In preparation for an upcoming match against Orlandoe, newcomer Aralia turns to Queen VeVe for advice. Regardless, Aralia finds Orlandoe to be WAY too tough and gets completely dominated - or so we think. Orlandoe calls to VeVe to come rescue to helpless Aralia from this terrible punishment. Ever vigilant, VeVe swoops in, calling Orlandoe out for being overly rough. But as VeVe and Orlandoe trade threats, Aralia hits VeVe from behind! What betrayal! Aralia had been working with Orlandoe all along! And now, suddenly dazed and winded, the Queen finds herself at the mercy of this wily pair...


The majority of this video features the double teaming action of Aralia and Orlandoe as they dominate Queen VeVe. With an emphasis on putting her in leg spreading poses, they dominate VeVe with scissorsholds, body punches, crotch attacks, neck attacks, a double arm bar and a double knee bar, ab stretching, and even by making her do a headstand for better leg-spreading crotch attack access. At last, the beating proves too much for the Pantyhose Queen, and with her humiliation complete, Orlandoe and Aralia sit the Queen up against the wall with her legs spread, and stand over her as they congratulate themselves on their success.