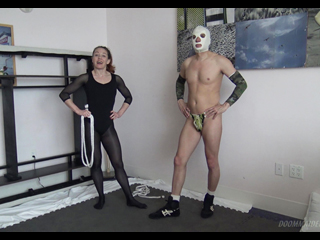 While on tour in Florida, VeVe Lane accepted a challenge from new male opponent for her competitive bondage wrestling "Challenger Series." This series features regular guys from the general public who step up to test their luck in VeVe's rope-tie wrestling arena. Here we welcome our 7th contender in this series, a lean fellow who calls himself G-Shock.


G-Shock is a pro-style wrestling fan with a jerkish attitude. In his opening interview with VeVe, he goes on about how he likes spanking female opponents in the pro-style ring. VeVe merely smiles pleasantly as she quietly plots his demise.


When these two get into it, G-Shock shows his athleticism as he tangles with VeVe on the mats. But despite his spirited energy, he has no clue how to avoid VeVe's tricky and subtle lassoing techniques. And when he foolishly tries to give VeVe a wedgie and give her a spank as she pins his head, VeVe goes into no-nonsense mode. She cinches his arms into a painfully tight tie, rendering him nearly helpless from that alone (tight rope is a great way to shut down a jerky opponent). VeVe then proceeds to physically harass him as she continues to bind him up: spanks, body scissors, headscissors, feet on the face, and rough handling... all as she continues to further immobilize him with the ropes.


At last, she binds G-Shock into a ball tie and turns him ass-up beneath her. He's pretty well cowed due to the pain of the ropes, but VeVe delivers plenty more pain on top of that: a firm round of spanking! And humiliated, red-ass G-Shock has to tap out to the spanking torment. Amused, VeVe continually taunts her embarrassed and thoroughly-defeated opponent, finishes him off with a classic ball gag, and savors a victory pose!