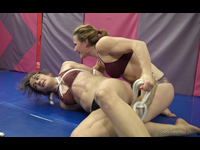 Energetic fitness athlete Queen Beth takes a shot at bondage wrestling against the "Rope Queen" VeVe Lane! Queen Beth is fit and strong, and she loves physical challenges. But she has minimal rope-work experience. Nonetheless, if there's a fight-y adventure to be hand, Queen Beth is glad to jump right in.... and bondage wrestling with VeVe is always a fight-y adventure!


The ladies jump in for a spirited and dynamic start to the bout, but VeVe's tight rope-working skills gradually cut down Queen Beth's maneuverability options. As they go, VeVe artfully cinches Beth's arms behind her back, but, biting back the discomfort, Beth tries to keep on fighting with just her legs. Yet in spite of Beth's resistance, VeVe goes on to loop her into a chest harness and then into a painful hogtie, complete with crotch rope.


Queen Beth winces and steels herself against the discomfort as VeVe merrily finishes the tie and then moves in to deliver some headscissoring and teasing punishment. Despite her physical plight, Beth remains playful and banters with VeVe. At last, VeVe cleave gags her inescapably-bound captive and enjoys a little victory pose celebration.