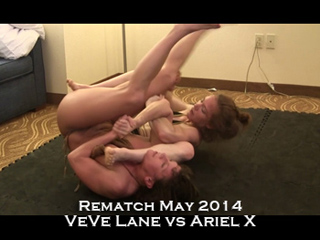 Two of the leading competitive ladies on the scene today go head-to-head in this tense, sweaty submission wrestling bout!


VeVe and Ariel first matched up in 2011, and now, in 2014, they meet on the mats again to see where they stand 3 years later. Following opening comments, the ladies engage in an arm wrestling contest and then face off for two 10-minute rounds of submission wrestling.


Intense, sweaty, and suspenseful action with pressing bodies, skillful maneuvering, and one lady emerging victorious. Drenched, the ladies conclude with closing comments.