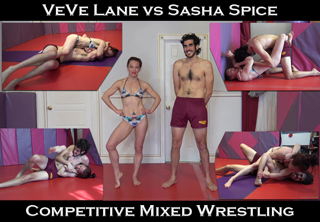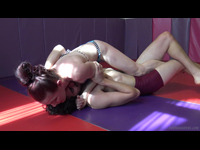 Presenting Sasha Spice, VeVe's first competitive male challenger for 2022. Sasha is tall and tough, fit and feisty. He has a tiny bit of grappling training, but he mostly just loves a good, hard tussle. He's polite and personable, but when he hits the mats, he goes all-out and fights to win.


And what an athletic competitive clash these two have! Sasha brings it on, full of energy and fighting his best as he works to get VeVe under control. VeVe gladly answers in kind, cranking up her intensity to meet this tall and scrappy challenger.


Throughout the struggle, VeVe's submission arsenal gives her the edge. And while Sasha's vigor and energy sometimes save him, they sometimes land him in even deeper and tighter trouble!


Two 10-minute rounds of competitive submission wrestling. With the loser subjected to a sweaty 5-minute Punishment Round by the winner. Punishment Round features: headscissors, facesitting, feet all over the face and throat, Camel Clutch, and victory posing.