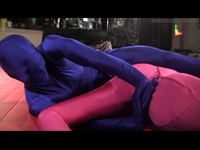 VeVe and Candy suit up in blue and pink for their first female zentai wrestling bout together.


VeVe has tried zentai wrestling before, but this is Candy's first time in zentai, let alone wrestling in a fully encasing suit. She's curious to see how her favorite holds will work in zentai style!


The ladies are shiny and slippery, wrestling gracefully and working each other from hold to hold. It's a smooth, fluid back-and-forth struggle featuring grapevines, head scissors, body scissors, facesitting and school girl pins, the Surf Board, Boston Crab, Bow and Arrow, Camel Clutch, Lotus Lock, Figure-4 Leg Lock, and Full Nelson.


Nylon clad limbs and bodies entwine as the ladies struggle for each hold. No tap outs, no stopping. Candy finally gains the victory with an unanswerable head scissor, finishing off with a victory pose.


No words are ever spoken, but we do hear the ladies' groans of exertion, moans of pain, and breathing, as well as the sounds of nylon sliding on the mats.